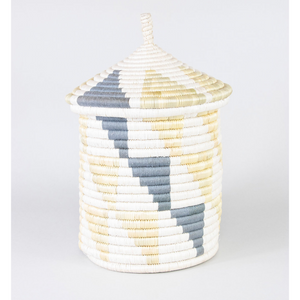 WomenCraft Refugee Lidded Storage Basket - Medium Inyabu Design
Regular price
$58.00
$0.00
Unit price
per
This lidded storage basket is a traditional shape used by households in Tanzania to store grains or bring gifts to friends and family. It features the Inyabu design, stemming from the word "Inyabutatu", representing the incredible "Resilience" of refugee artisans to use their weaving to provide a decent life for their families within the most challenging environment. Days to weave: 4 days.
This lidded basket is part of WomenCraft's MADE51 Collection, the global brand of refugee-made products created by the UN High Commissioner for Refugees (UNHCR). The feed sacks in which refugees receive their monthly food rations are recycled and woven with the grasses native to the region, which gives these basket its white color.
As part of MADE51, WomenCraft works with Burundian refugee women who recently returned to their home communities after spending several years in refugee camps in Tanzania. Weaving with WomenCraft means that they can continue to generate income and maintain their livelihood as they return to Burundi. Through WomenCraft, over 600 artisans advance themselves, raise stronger families, stimulate their communities and inspire the world around them.
Measurements: Approximately 12" high x 6" diameter. 
Fairly traded and handmade in Tanzania.
---
Share this Product
---